---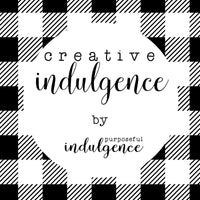 Creative Indulgence... kind of like a trip to the craft store and a DIY workshop in one!  This monthly subscription will come to your door, wrapped as a special gift, and indulgence, just for you!  Each month it will include at least one DIY kit that we'll do together in a private Facebook group, and AT LEAST  3 surprise supplies or tools to add to your crafting stash.  What's really neat is that you'll get fun supplies, embellishments, and tools to add to your creations without having to purchase a whole package of something that you may or may not use and you'd have to find a place to store.  Besides the exclusive DIY kit, available only in the subscription box, you'll be invited to join a subscribers-only Facebook group where we'll create, and share ways to use the extra surprises.  Creative Indulgence... DIY workshop, stash builder, and community - what could be more fun?
This subscription is perfect for you (or as a gift) if:
You love to DIY, but have too many ideas and don't know what to do!
DIY is your thing, but finding time to find and purchase all of the supplies is tough for you.
You love adding fun embellishments, using unique supplies, or trying new crafting tools, but only need a few of each, and not a package of 75!
You love having a craft stash, and fun things to add, but don't love spending a fortune to buy way more than you need.
You want to start creating, but don't know where to begin!  Our projects and tutorials are great for beginners, and teaching is our thing, so without a doubt, you can do this!
You love sprucing up your home with fun new things!
You love to give gifts from the heart!  While these projects are perfect for your home, they also make amazing gifts!
Almost forgot... you love surprises!  Each month's box is a surprise... a creative indulgence, shall we say!
Your subscription includes:
At least one DIY Kit per month (with live tutorial)
At least 3 additional crafting supplies or tools to add to your creative stash and make your projects extra special.
A private Facebook group for Creative Indulgence members, only!
This is a subscription box, so payment will be automatically recurring on the day you've made your first purchase each month.  (Example:  If you purchase on 4/8, you'll be charged monthly on 5/8, 6/8, 7/8, etc.)  Boxes will be shipped by the 20th of each month, and the live tutorial will take place around the 25th.  You may cancel at any time, however, we ask that you contact us at indulge@purposefulindulgence.com, at least 7 days prior to your payment date so that changes can be made and your box can be offered to someone on our waitlist in a timely manner.